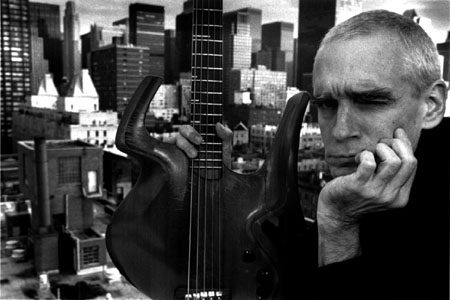 I haven't been getting around to the other blogs as much as I should, but here's something to shake me out of my anti-social torpor: Ted Warren at
Trap'd interviewing bassist Steve Swallow
. Here's a selection:
You have worked with most of the great drummers out there. (Roy Haynes, Pete LaRoca, Jack DeJohnette, Adam Nussbaum, to name a few). Do you have any favorites to work with and/or people you think you have an especially deep musical connection with?
I'm reluctant to name names, for fear of leaving someone out. Clearly, the drummer I'm next to on the bandstand is the guy I'm most focused on; it's a very intimate and intense relationship. If things don't go well with the drummer I'm left with an incredibly sore lower back by the end of the gig, the product I suppose of trying to force the music into a smooth, relaxed flow. Of course, this can't be done. Either you find a groove with a drummer or you don't, and sometimes I'm surprised that it's not there with a highly regarded drummer, or that it's magically there with a drummer of less renown. I like that you refer to a "deep musical connection." Really connecting with a drummer involves so much more than the placement of beats; touch, dynamics, the drums' tuning, the drummer's response to what's going on elsewhere on the bandstand and many other factors are equally crucial.
Go read the whole thing.
H/t to Jon McCaslin at
Four on the Floor
for linking to this. He also gives a link to
Swallow's site
, which has
his and Carla Bley's lead sheets
available to download
free of charge
.